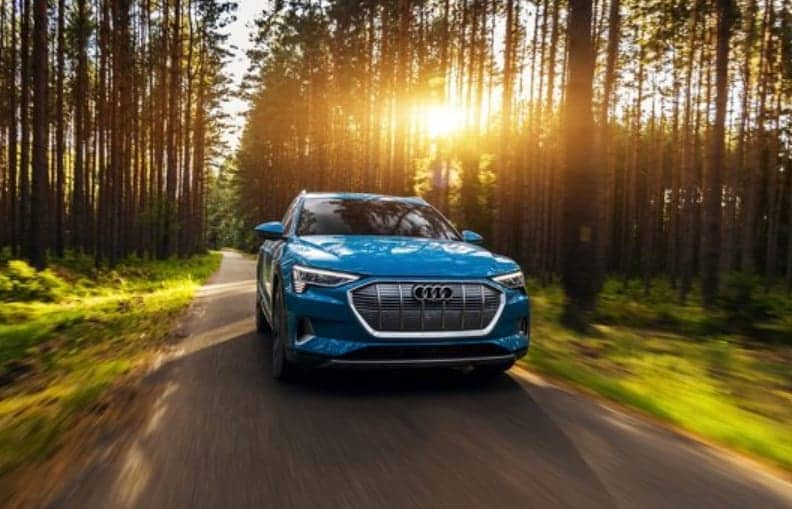 Green cars are evolving rapidly, so we don't blame you if you haven't been able to keep up with the latest models and green vehicle news. At Keyes Audi, one green car that attracts a lot of attention is the Audi e-tron®, and we often have to answer the same question. Is it a hybrid or is it electric?
Hybrid vs. Electric
First, let's look at the difference between these types of cars. A hybrid uses electric power, but it also uses traditional fuel. A hybrid uses that electric power to reduce gasoline usage and improve fuel economy. An electric car, on the other hand, doesn't use gasoline or diesel fuel at all. It comes equipped with a battery pack and an electric motor, creating zero emissions.

The Audi e-tron® is an electric SUV, and it's actually the first Audi SUV to be entirely powered by electricity. It's sleek and stylish, offering everything that you love about Audi models with an all-electric powertrain. It even comes equipped with the quattro® all-wheel drive system.
Power
This new Audi SUV can drive for up to 204 miles before it needs a charge. Thanks to smart charging tech, you can add 54 miles of range in just ten minutes. There's a nationwide network of over 16,000 charging stations that your Audi e-tron® can take advantage of. This Audi SUV also offers multiple driving modes, the ability to tow up to 4,000 pounds, and comes equipped with a potent electric powertrain that can produce up to 402 horsepower. This green SUV will meet and exceed your expectations.
If you're looking for a green vehicle that doesn't sacrifice performance or style, the Audi e-tron® is perfect for you. Visit our Audi dealership serving Beverly Hills and test drive this stylish Audi vehicle today. We hope to see you soon!