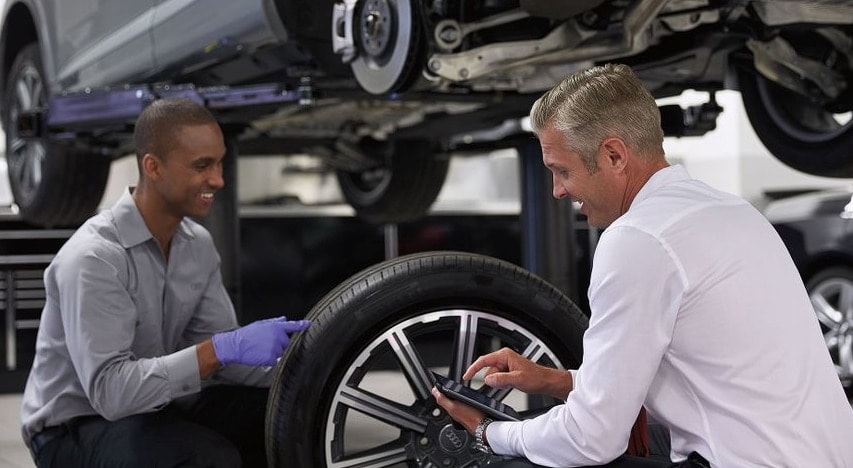 It's hard to overstate the value of a trustworthy Audi service center when you are the proud owner of a new Audi car. To maintain the incredible driving experience you enjoy in your beautiful Audi vehicle, you need technicians you can depend on. Luckily, when you drive off in a luxury car from Keyes Audi, you can simply return to the same place when you need maintenance. Our team here at our Sherman Oaks Audi service center can handle any of your maintenance or repair needs.
Importance of Audi Service
When you hit the road in your sleek new Audi car, you will instantly notice the responsive acceleration, precise steering, and smooth ride feel. The nature of putting your car to use inevitably diminishes these aspects of your driving experience over time. Keeping up with your car's service schedule will be essential to not only enjoying your car but keeping it running.
For instance, your braking system allows you to confidently come to a full stop. If you fail to keep up with maintenance on your brakes, such as getting a brake fluid flush or getting your brakes checked, you will notice your car having trouble coming to a stop. Being that your brakes are necessary for safe driving, this also creates a dangerous situation while driving as well.
Our Audi Service Center
You can trust our team of certified Audi technicians here at our Audi service center to skillfully care for your car. We'll perform a multi-point inspection of your vehicle to ensure it's in excellent condition all around during routine service appointments like tire rotations and oil changes. Our selection of OEM Audi parts also means our shop is the ideal place to go for repairs. To make sure your care is well taken care of, schedule your service appointment with us today!