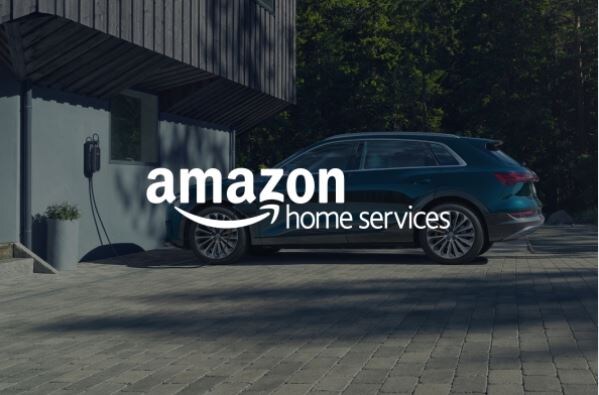 If you love the 2018 Audi Q5 and the 2018 Audi Q7 but want to reduce the size of your carbon footprint, you'll be thrilled that you can now pre-order a 2019 Audi e-tron. The all-new Audi e-tron just made its debut as the Audi brand's first all-electric, fastest charging vehicle.
The Audi e-tron is a roomy, five-passenger SUV that's offered in three great-looking, capable trims. Every trim is equipped with premium buyers in mind, meaning the Audi e-tron has all the features you'd expect in a luxury SUV produced by the automaker we proudly represent.
Just as we're excited that the all-electric Audi e-tron will arrive at Audi dealerships throughout the nation in the second quarter of 2019, we're happy to tell you that the Audi brand and Amazon Home Services have teamed up in what's Amazon's first partnership with a car maker. The two companies have joined forces to create and deliver a turn-key solution for drivers who want to be able to charge their Audi e-tron at home.
Amazon Home Services will provide a digital experience where Audi e-tron buyers can learn about charging, installation, and equipment. Users will be able to see the cost of their electrical services, schedule an electrician to install their EV charger, and read consumer reviews. All of the home charging installation services are backed by Amazon's Happiness Guarantee.
"When [the] Audi [brand] does electric, we do it by bringing our customers the utmost in convenience and premium experience," said Scott Keogh, president of Audi of America. "In addition to our customers being able to reserve their [Audi] e-tron online, we're proud to work with a similarly customer-centric company like Amazon to make in-home charging simple and convenient for [Audi] e-tron buyers."
To learn more, contact our Audi dealership near Santa Monica, CA. Better yet, stop by Keyes Audi to order an Audi e-tron today.