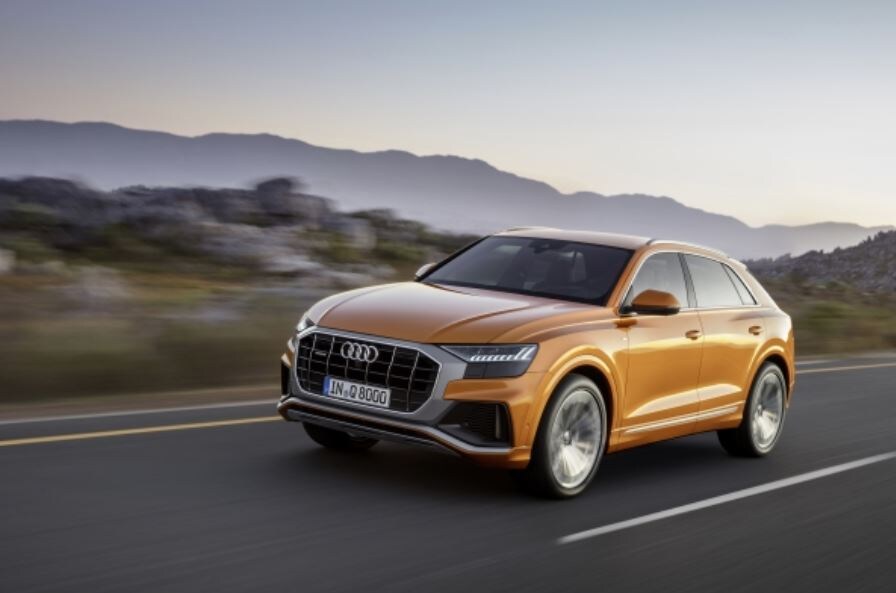 Are you already a fan of the
2018 Audi Q5
and the 2018 Audi Q7? If so, you're in for a treat when the 2018 Audi Q8 launches in the United States later this year. The all-new Audi Q8 borrows from the design of the original Audi Ur Quattro, which gives the SUV a presence on the road that's impossible to overlook.
In a press release, the automaker we represent had this to say about the 2018 Audi Q8, "Combining the elegance of a coupe with the functionality of an SUV…the five-passenger SUV offers advanced connectivity, infotainment, and driver assistance systems, combined with capable driving dynamics, to set a new standard as the top SUV model from the Audi brand."
The all-new Audi Q8 is wider and lower than the 2018 Audi Q7, which gives the SUV a spacious interior and plenty of room for both passengers and cargo. A primary feature in the SUV's interior is the all-new MMI touchscreen display. This display has a black-panel look and it disappears into a black inlay when it's turned off.
The SUV's new
MMI infotainment system
is as user-friendly as a typical smartphone. When your finger triggers one of the system's functions, you'll hear and feel a click. You can personalize the SUV's infotainment system using moveable "favorite" buttons. The MMI infotainment system has voice controls, which makes it a knowledgeable traveling companion. Looking for a place to eat? Just say, "I'm hungry," and the system will suggest some restaurants that are close to your current location.
While the 2018 Audi Q8 hasn't made it to our Audi dealership just yet, we do have an extensive selection of the latest Audi models at our location. Visit
Keyes Audi
to find and finance a brand-new Audi vehicle today.