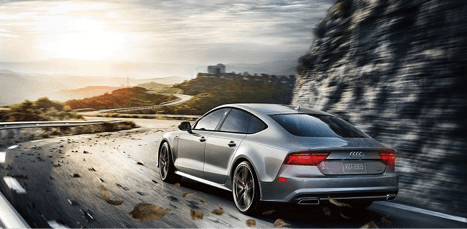 All-Wheel Drive vs. Four-Wheel Drive
Have you ever asked yourself, "Is there an Audi car dealership near me that can explain the difference between all-wheel drive and four-wheel drive in language I'll understand?" If so, the answer is, "Absolutely! Just contact us and we'll tell you all about all-wheel drive and four-wheel drive." Buying or leasing a vehicle can be stressful, especially when you're unfamiliar with the terms that are being discussed. We're always happy to explain things to you so don't ever hesitate to ask us a question about our Audi vehicles.
The Difference between AWD and 4WD
Differences at a Glance
4WD is heavier than AWD
AWD distributes more power to the tires that need added traction
4WD sends the same of amount of
It doesn't matter if you're shopping for a new car or a pre-owned Audi at our location. Whether a given automobile has AWD or 4WD is a big consideration for many drivers. To figure out which system is best for you, you have to know how these systems differ from one another.
Arguably the biggest difference between AWD and 4WD is that all-wheel drive is active all of the time while 4WD has to be engaged by a driver. An all-wheel drive system distributes power to each of your tires, but sends more power to the tires that need added traction. Traditionally, a 4WD system distributes power to all four of your tires evenly, meaning every tire gets the same amount of power. Four-wheel drive systems are heavier than all-wheel drive systems. This is why you'll see all-wheel drive on vehicles such as sedans and you'll find four-wheel drive on larger automobiles such and trucks.
Depending on the vehicle you decide to buy or lease from our Los Angeles, CA Audi dealership, the automobile may have standard or available all-wheel drive. If you get a 2017 Audi A4, for instance, you can add Quattro, the Audi brand's legendary all-wheel drive system, to your sedan
Driving Conditions for AWD and 4WD
All-wheel drive is a great system to have if you live in an area that experiences a lot of inclement weather throughout the year. Vehicles that come with standard all-wheel drive such as the 2017 Audi Q5 are smart choices if it rains a lot in your area, you see a lot of snow during the winter, or you simply want better handling.
While four-wheel drive can also give you better traction when the roads are bad, these systems are designed to tackle the terrain during your off-road adventures and haul heavy loads.
If you're unsure which drivetrain is right for you, contact Keyes Audi so we can help you make the right decision. Visit Keyes Audi today!
Driving Conditions at a Glance
AWD is great for inclement weather
4WD is meant for off-roading
4WD is intended for hauling