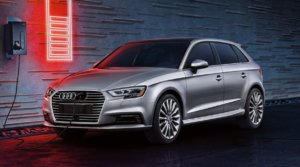 If you've ever thought, "I wish there were award-winning new cars near me that were produced by a reputable car maker like the Audi brand," you're in luck. That's because four Audi vehicles recently won Women's Choice Awards and we have them at our Los Angeles, CA Audi dealership!
After the Women's Choice Award commissioned a national study to get an understanding of what matters to females when they're buying a vehicle, the Women's Choice Awards were born. These prestigious awards are given in the following categories: safety, reliability, family-friendliness, and eco-friendliness.
To determine the winners of the awards, contenders are separated into nine automotive categories, such as sedan, coupe, and SUV. Automobiles in each class are then scored based on the things that women say are the most important when they're buying a new car or truck.
To be in contention for a 2018 Women's Choice Award, vehicles had to be available for sale in the United States between September 13, 2017 and November 2, 2017. The automobiles had to be from the 2018 model-year and they had to be the base trim of their respective model's lineup as well.
As your local Audi dealers, we're thrilled that four Audi models won 2018 Women's Choice Awards. The 2018 Audi A3 Cabriolet, the 2018 Audi A3 Sportback e-tron, and the 2018 Audi TT Coupe won in their categories. A popular Audi SUV, the 2018 Audi Q3 also won a coveted Women's Choice Award.
"[The] Audi [brand] is committed to providing our customers with exceptional vehicle choices that each offer outstanding driving experiences," said Filip Brabec, vice president of product management at Audi of America. "It's an honor to have four Audi models chosen by the Women's Choice Award in the 'safety,' 'reliable,' and 'eco-friendly' categories."
To learn more about our award-winning Audi vehicles, contact Keyes Audi today.
---