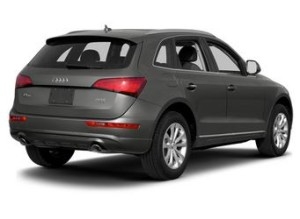 The 2014 Audi Q5 was recently named the "Best Luxury Compact SUV" on U.S. News and World Report's list of the 2014 Best Cars for Families. These awards are given to the vehicles that have the safety, comfort, performance and dependability needed for families. The 2014 Audi Q5 excelled in all criteria.
Family Friendly Luxury and Features
The Q5 comes standard with a luxurious interior that includes premium leather seating and a three-zone climate control. Also, standard on all trims is Audi's eight-speed Tiptronic transmission, keeping driving fun by allowing driver-assisted shifting. In addition to keeping driving fun, the quattro all-wheel drive keeps driving safe by giving power to the wheel that needs it most. Available options for keeping the family engaged and happy are a panoramic sunroof, Bluetooth connectivity and Audi Connect with Google Earth. This innovative feature can make the SUV a traveling Wi-Fi hot spot for up to eight devices. Headroom maxes out at 39 inches in the rear on cars with a sunroof, with 37.4 inches of leg room. The front offers up to 39.4 inches of headroom with 41 inches of legroom. All-in-all, the SUV gives all passengers plenty of space to enjoy the smooth ride.
Safety Features
Safety features available include a rear-view camera to help with parking and reversing, adaptive cruise control with the ability to maintain a selected distance behind a leading car, LED daytime running lights, anti-lock brakes and electronic brake-pressure distribution. A front passenger occupant sensor that links to the air bag deployment is standard on all trims as are side curtain air bags. Adaptive xenon headlights that swivel around a curve and take their brightness cue from oncoming lights are available.
Engine Types
Audi offers three types of engines on the Q5, a turbocharged 2.0 Liter 4-cylinder engine, a supercharged 3.0 liter V6 and a 3.0 liter clean diesel engine. These engines give an estimated city/highway combined mpg of 23 for the first, 21 for the second and 27 for the diesel. Horsepower ranges from 220 for the 4-cylinder to 272 for the 6-cylinder gas and 240 for the 6-cylinder diesel. The Audi Q5 is also available as a 26-mpg hybrid.
Trim Offerings
The first level trim on the Q5 is named Premium and its MSRP is $37,300. A 2.0 4-cylinder turbocharged gas engine is the only engine offered as standard equipment at this trim level. The Premium trim comes with halogen headlights and non-LED daytime running lights. The 10-speaker Audi Concert radio with MP3 playback comes standard on both this trim and the Premium plus, the next trim.
The Premium Plus trim starts at $41,200. There are three engines offered at this level; a turbocharged 2.0 Liter 4-cylinder engine, a supercharged 3.0 liter V6 and a 3.0 liter clean diesel engine. Other than engine options, the Premium Plus also includes xenon plus headlights with LED daytime running lights, a power lift tailgate, a sunroof, and Audi advanced keyless start, stop and entry system.
The highest level trim is the Prestige, starting at $51,900. At this trim, the supercharged 3.0-liter V6 or the 3.0 liter clean diesel are the only two engine offerings. Prestige equipment includes Audi Side Assist that allows for safe lane changes and Audi MM Navigation Plus with voice control. Included is a beefed up Bang and Olufsen sound system that has 14 speakers.
There is ample storage room in the rear, and because the car is not just a luxury vehicle but is also a work-horse SUV, it can haul a light-weight family boat to the lake and go off-roading when it gets there. The electronic stability control has an off-road mode with traction control.
Of course, when not being abused off-road, the 2014 Audi Q5 is a beautiful and stylish luxury car that has sporty handling and a smooth, comfortable ride. It fits in beautifully with any opera or symphony crowd. U.S. News and World Report got it right with the Audi Q5 luxury SUV; it is a family pleaser.
References:
---