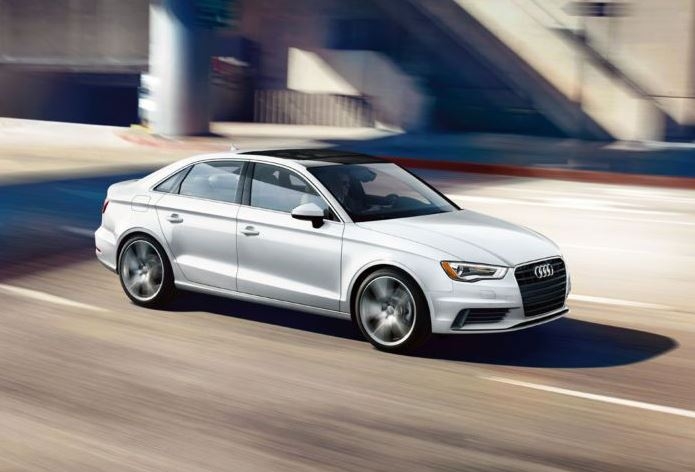 Audi has redesigned its A3 compact car for the 2015 model year. The German automaker recently released the full specifications and detailed prices for the 2015 Audi A3. According to the release, Audi is updating the affordable luxury vehicle with a larger engine, improved styling and various high-tech features. Drivers may purchase the latest generation of the A3 in one of three trims, Premium, Premium Plus, and Prestige.
Trim Level Prices
The base-level Premium package costs just under $30,000. It includes Xenon lights, a 180-watt stereo and comfortable leather seats. Motorists can add several comfort and convenience features by selecting the Premium Plus trim. This package comes with keyless entry, heated seats, high-end wheels and a more sophisticated climate control system.
Audi's most luxurious A3 trim level is the Prestige. It starts around $40,000 and includes a 705-watt stereo with 14 speakers. It also boasts LED headlights and a top-notch navigation system that can interpret handwritten street addresses. All-wheel drive, various accessories and a bigger engine can all be added to the A3 models.
Engine Options
The Audi A3 can be purchased with a 1.8 or 2.0-liter four-cylinder engine. The 1.8-liter unit generates a maximum of 170 horsepower while its 2.0-liter counterpart produces 50 horsepower more, according to Audi USA. Both of the engines are turbocharged. 2014 Audi A3 prices indicate that the larger engine costs about $3,000 more.
The latest generation of the A3 weighs roughly 100 pounds less than its predecessor. This improvement boosts performance and saves fuel. Like many German luxury cars, the A3 is offered in both gasoline and diesel versions. Car and Driver Magazine reports diesel A3 models will come standard with a 2.0-liter engine.
Unlike models made during previous years, the 2015 A3 will feature six-speed automatic transmissions, after the company determined that there wasn't enough demand for a manual shifter in the U.S. Some drivers assume that luxury cars come with rear-wheel drive by default, but Audi has chosen to put front-wheel drive in A3 models that lack all-wheel drive.
Sophisticated Technology
New high-tech options include in-car wireless Internet, custom drive modes and automated driving assistance functions. A premium audio system that accepts MP3 player input is also available for this vehicle; a built-in cellphone antenna that assists with reception as well.
The Audi A3 was introduced as a two-door hatchback in 1996, with its last major redesign occurring about ten years ago. Audi's improved 2015 model could help the automaker gain a larger share of the affordable luxury market.Edmunds.com identifies the enhanced interior, diesel option and attractive styling as valuable selling points for this car.
---