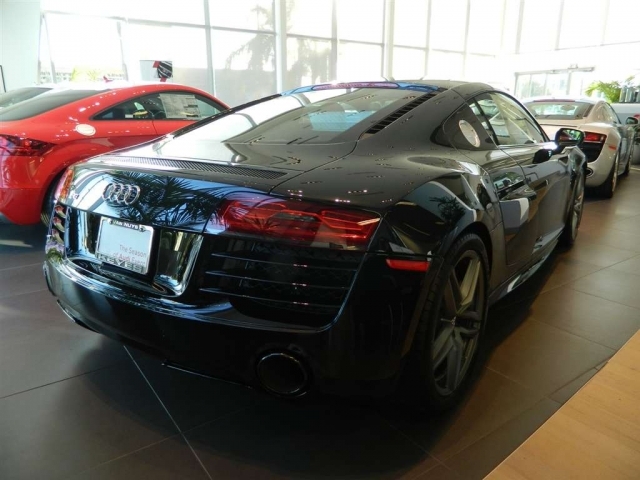 The 2014 Audi R8 coupe is more than just a luxury sports car. Its whole being is centered around its' performance quality, as well as its race car look and feel. The seats are low, and the steering wheel is flat on the bottom, so every road is like the race track – wherever you may choose to drive.
A 2014 Audi R8 starts at $115,000. With that price tag comes all the power of a V10 plus engine that produces 550 horsepower and 398lbs-ft of torque. All this leads to a top speed of just under 200mph. Trying to accelerate to 60 mph in a hurry? You're in luck. The Audi R8 will get you there in 3.7 seconds using the quick shifting six-speed manual transmission with Quattro all-wheel drive. The R8 also comes with an optional seven-speed Audi S-tronic transmission.
The all-wheel drive has been designed specifically for this vehicle. With 85% centered in the rear, it allows you to stay in control no matter the conditions. Even the sharpest turn is a breeze with the R8. An all-new aluminum frame gives the car weight 40 percent less than with regulatory steel frames. The frame is ASF high-strength aluminum and ultra-light weight. In additional the engine blocks have been redesigned with aluminum alloy incorporating silicone crystals, and the cylinder head is aluminum alloy as well.
Looking for a car that not only goes fast, but looks cool getting there as well? The Audi R8 comes with LED headlamps and taillights that produce light at the same rates at the sun: 5,500 Kelvin. The LED lights are also incorporated into the side mirrors turn signal and under the hood. The side mirrors, as well as the side blades and sigma engine compartment inlays contain carbon fiber. Light, strong and head resistant, carbon fiber has also been used on the brakes of this car. The material has also been encompassed in the interior in the car, where you can find the dash inlays and door sills featuring the signature race car material.
Safety was not compromised with the design of the 2014 model, as there are airbags for every angle of your body, including driver and front passenger dual-stage airbags, head/thorax side airbags, and knee airbags.
The 2014 Audi R8 is perfect for anyone who loves a great luxury sports car, and loves to show it off, literally. The car's hood has a transparent cover, so bystanders can actually see into the engine compartment. For more information on the 2014 Audi R8, contact your local Audi dealer.
---