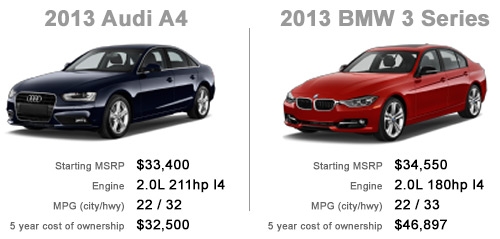 The Audi A4 and BMW 3 Series have been closely matched rivals in the compact luxury sedan market for years. The new A4 has undergone revisions including redesigned headlights and functional changes inside. It has a 2.0L Turbocharged engine and comes standard with Front Wheel Drive, CVT Transmission or an optional quattro®all-wheel drive with 8-speed Automatic transmission. The BMW 3 Series sedan comes in two separate trim levels and a turbocharged 2 liter inline four-cylinder engine. Options include all-wheel drive and a choice of several transmissions.
The Audi A4's interior is nicely styled and is constructed of high quality plastics and leather. The interior boats supportive seats with fabric centers and leather bolsters that help hold the driver securely in position. The steering wheel and gear knob are covered with leather. The vehicle includes tilt and telescopic steering that have a high degree of adjust-ability, as do the standard power seats. Heated seats are an option. The Audi's MultiMedia Interface system includes a 40GB hard drive to process navigation data as well as audio files. The navigation system uses a 3G data connection to integrate Google Maps into MMI Plus. Drivers can perform a Google search by voice command; real time weather and travel information are also available. The system provides connections for up to eight devices with mobile Wi-Fi. Its Music Interface features iPod compatibility, Bluetooth and Homelink technologies. The BMW 3 Series features an interior with high quality coarse leather on the seats and steering wheel, and smooth leather covering the transmission shifter. The BMW also comes with electric seats and tilt steering. Navigation equipment is satellite driven in the BMW and there is a $385 charge for Bluetooth audio connectivity.
The Audi is equipped with electric steering which provides plenty of power assistance even at low speed. The driver can detect the power assist increasing and decreasing as the speed changes. As speed increases and the power assist responds, the vehicle provides superior handle ability and stability on curves. Audi offers a separate Driver Assist package with drivetrain and steering response as well as the steering ratio for improved performance. The BMW has a stiffer chassis with wider front and rear tracks. Electro-mechanical steering eliminates power-steering loads on the engine for fuel economy. The BMW features Drive Performance Control which cycles through four driving modes to fine tune steering weighting, throttle response and traction control. Optional adaptive suspension is available for increased handling and performance. Shock absorbers adjust to meet driving conditions and deliver superior vehicle control.
When it comes to engine specifications and fuel economy, the BMW 3 series' turbocharged 2 liter produces 181bhp and 280 lb. ft., with an estimated EPA of 58.9 mpg. The Audi A4 achieves the same fuel economy though its 1.8 liter turbocharged four-cylinder engine produces 176bhp, 280 lb. ft. With comparable features, the two are very similar in price. The average price of the Audi is $59,900.00, slightly lower than the BMW 3 series at $61,725.00. The Audi is both attractive and affordable with an extremely quiet interior. Visit your local Audi dealership for additional package options, features and styling choices on the all-new Audi A4.
---